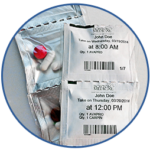 G-Pak
Patient-Specific Strip Packaging
Strip packaging is an innovative unit-dose packaging solution, consisting of individually sealed compartments that contain single or multiple medications.  Adherence packaging removes the risk of human error with 100% automation of oral solids.
Blister
Traditional 30-31 Day Blister Cards.
Controlled medication packed in tamper resistant blister cards.  Medication can be packed unit dose or by hour of administration.  Numbered blisters make inventory counts fast and accurate and have reminders of when to reorder medication.
Multi-Dose Blister Cards
Each administration time has its own clearly labeled card.  Each card lists medication and its description for easy identification.  Each blister is numbered to follow the date for more accurate dosing.  They reduce the potential for medication errors during each med pass caused by interruptions, distractions, or personal interactions with the residents.
Consultant Pharmacist
Gosney Long Term Care consultant pharmacists visits each facility on medication reviews on a regular schedule throughout the year. Resident medication regimens are routinely reviewed to consider potential issues with compliance, medication choices, drug interactions, drug-disease interactions, and adverse reactions.
Tell prospective customers more about why they should start using online refill.  How will it make their lives easier?  How much money will it save them?
Don't wait...
Contact us today for a free consultation on how Gosney LTC can transform your long term care facility